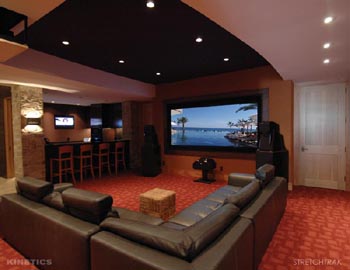 Kinetics' StretchTRAK system provides the ultimate in home theater design – combining form with function to create beautiful acoustics and style.
Do you have curved walls or ceilings, non-square room perimeters or simply the desire for a unique and creative look in your theater room? If so, StretchTRAK can provide full acoustical coverage of home theater walls and ceilings with total design flexibility.
StretchTRAK is an approach where on-site Kinetics-certified installers stretch fabric across acoustical wall products and tuck the fabric into a "form fit" flexible track. With crisp corners, tight seams and a wide array of wall and ceiling designs, StretchTRAK is the superior choice for home theater acoustics.